No matter your body type, you have the right to be stylish. Whether you are strictly following your weight loss methods, giving birth recently, or dealing with body dysmorphia, there will always be at least a single look appropriate for you.
For those who are losing weight with effective pills to curb hunger cravings, choosing what to wear can be tricky or, often, costly.
To help you with that, here are four tips that can help you stay stylish along your weight loss journey:
Follow Positive Feelings When Choosing Great Outfits
You don't have to wait to shed some pounds to feel good. Almost everyone understands the confidence that a great style can bring out during a weight loss process. And while you're in the process of losing weight, you're probably worrying that you'll run out of proper clothes.
Maybe it's time to eliminate some stuff in your wardrobe. However, instead of purchasing new ones, filter the old ones first. Try each and every piece of clothing that you currently own. Don't forget to mix and match.
If you feel good seeing yourself in a certain outfit, keep it. Otherwise, dispose of it.
Reward Yourself From Your Weight Loss Journey's Success.
As you continue your weight loss methods, you'll be noticing improvements in your body. You'll definitely be amazed watching yourself in a vanity mirror beside your shower closet.
Nevertheless, outside that door lies a big hurdle.
It's only natural to organize your wardrobe, filter out the clothes that make you feel good, and dispose of the rest. What's left? A limited amount of options.
So why restrict yourself to dress choices if you can shop for new, right? Reward yourself for accomplishing your fitness goals and use it as motivation.
Be a Smart Shopper
As you try to reward yourself, you might feel anxious about wasting your resources. You'll worry that if you get bigger again, the clothes you're planning to purchase won't be worn again.
Don't worry, though; that's only normal. What you need to do is to be a smart shopper. Instead of buying clothes that appear stylish, try to think of their adaptability.
Think about this possibility: if you somehow gain a few more pounds and inches on the waistline, can you still wear the clothing properly? The decision-making might be really difficult for women, so here are a few suggestions:
Buy Clothes that are "Flowy"
Buy pretty accessories that are simple yet can make your style sharper. Choose styles wherein you have many possibilities to play with your existing clothes.
Focus on fashion that is adaptable, or if possible, those classic ones. Focus less on your insecurities and more on your features.
Body insecurities are unavoidable, and most people will try to use fashion to conceal them. However, this will be a hindrance to you, knowing that you are on a limited budget and need to maintain your hard-earned weight loss.
The best thing to do is to highlight more of your features instead. If you are gifted in the chest area, wear appropriate clothes that give justice to the shape. For long-legged people, a flaunting dress is enough to turn heads. Acknowledge your assets first and consider them highly as you style yourself.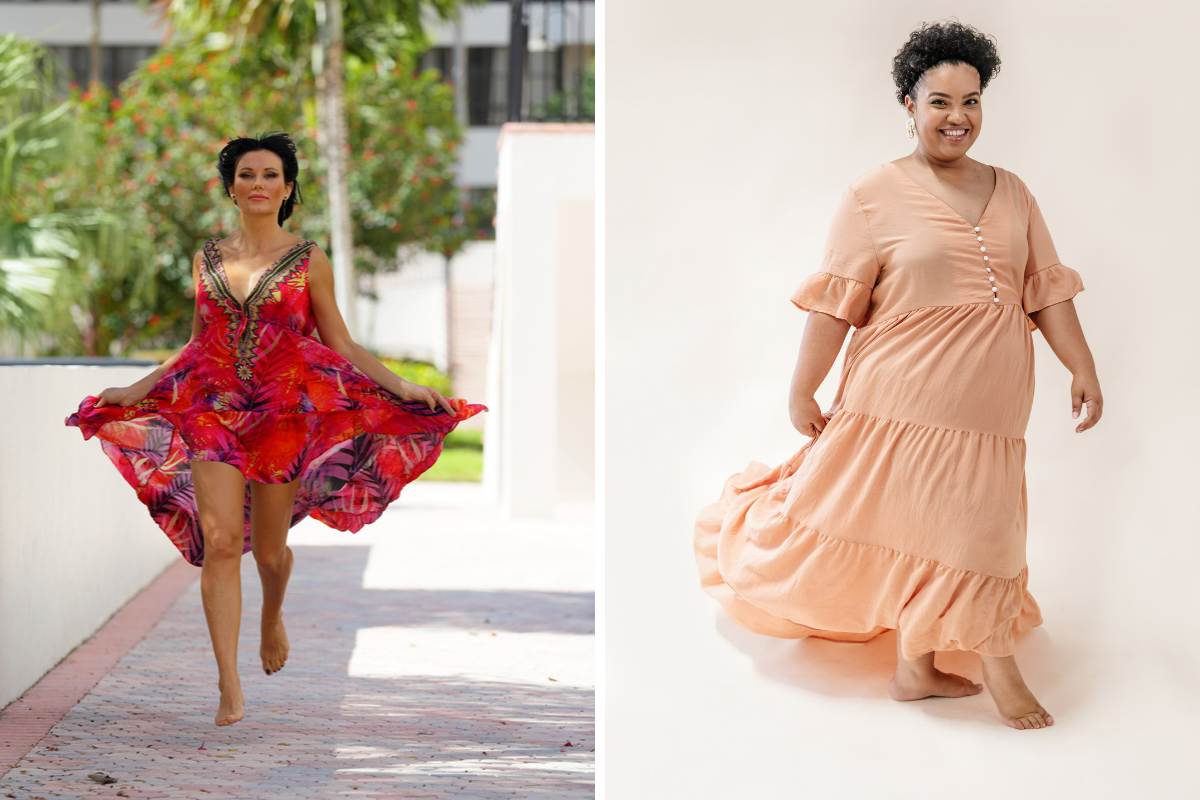 Do not let your weight loss journey be an issue for styling. You have the right to wear anything that looks good on you no matter what your body size is. If you need confidence, just follow the tips mentioned, and your outlook in life will surely become positive.